Amiga Events :

AmiBoing Games Christmas Sale on AMIStore
Posted by amigakit

on 2015/12/20 3:30:52

(

980 reads

) News by the same author
Amiga game developers Entwickler-X have now reduced all their games on AMIStore for the Christmas holiday season. You have to be quick though- these special prices will be valid until New Years Day.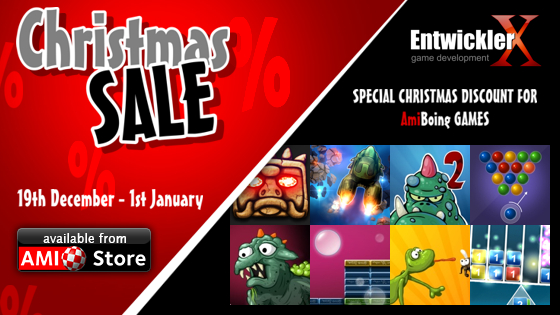 The discounted games include some great titles at great prices: MACE, Swamp Defense 2, Swamp Defense, Bubble Shooter DX, A Frog Game, Tap Jewels, Balance Blox and Bubbelsche Deluxe.





The comments are owned by the author. We aren't responsible for their content.
Author
Thread
Templario

Published: 2015/12/21 13:50 Updated: 2015/12/21 13:50

Quite a regular

Re: AmiBoing Games Christmas Sale on AMIStore

And games for MorphOS? for example M.A.C.E., I like the AmigaOS4 version but now I only can enjoy your games under MorphOS.