Software News :

RNOEffects 1.4 released
Posted by jPV

on 2022/8/15 2:48:04

(

149 reads

) News by the same author
RNOEffects is a simple image processing program with a focus on good batch conversion options and alpha channel based effects. A new video demonstration of the program is available at YouTube.



RNOEffects 1.4 includes the following changes:
- Images can be saved as AmigaOS, NewIcons, GlowIcons, OS4, PNG, and DualPNG icons with configurable properties that include icon type, tooltypes, selected image, default tool, stack, position, drawer properties, etc.
- Added the "Freehand" drawing mode
- Added the "Opacity map" effect for creating and inserting B&W opacity map images of alpha channels
- Added the "ARexx" effect to launch ARexx scripts within the program
- Added an example ARexx script
- Better text editing/importing/exporting options for the text drawing effect
- Draw and crop effects can be positioned with the mouse
- Re-designed the line effect and added an arrowhead option
- Added buttons and keys to load next and previous pictures in the directory
- Added the undo levels setting
- Added the redo option
- Removed overlapping keyboard shortcuts for copy/cut/paste operations
- Fixed pathless file arguments
- Safer error handling
- Other changes and fixes

Please visit its homepage for more information, screenshots, and download links.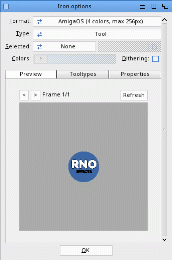 The comments are owned by the author. We aren't responsible for their content.
Author
Thread
khayoz

Published: 2022/8/17 18:20 Updated: 2022/8/17 18:20

Not too shy to talk

RNOEffects 1.4 released

Thank you very much for this update!

tekmage

Published: 2022/8/17 18:41 Updated: 2022/8/17 18:41

Just popping in

Great tool

Hi JPV, Thanks for updating this great tool. I'm watching the video and discovering how much power you have built into it. Impressive work! I like the icon save feature, one suggestion, can you add an easy button to place a drawer icon under the image? Just thinking how easy it would be to fix up a drawer icon to look cooler. Keep up the great work! Bill "tekmage" Borsari

jPV

Published: 2022/9/11 13:35 Updated: 2022/9/11 13:35

Just popping in

68k/FPU version available

An FPU version of the program is now released for OS3/68k and it can be many times faster than the non-FPU version in certain cases. It's available at

Aminet

now.