Software News :

Blastaway released!
Posted by saimo

on 2019/11/12 10:20:00

(

482 reads

) News by the same author
Italy, November 12, 2019 - RETREAM is delighted to announce the release of Blastaway, a highly playable and entertaining arena shooter, gameplay-wise heavily and shamelessly inspired to Wizard of Wor and graphically somewhat inspired to The Chaos Engine. Graphics have been pixelled by hand and music has been tracked as modules to let the player live a true 16 bit experience. And the 50 arenas, spread over 5 different stages, have been designed to make that experience intensely enjoyable... and last long! Are you brave enough to step into the arenas and clear them of the wors they swarm with?

Gameplay video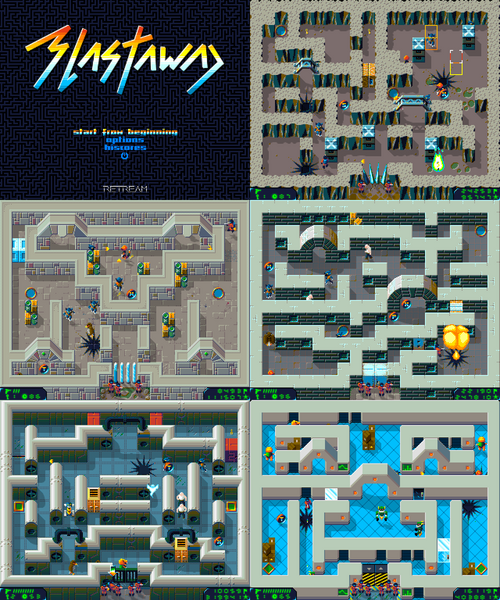 (click to enlarge)

Blastaway runs on AmigaOS 4 and Windows. And it's... free!

Blastaway page
RETREAM
RETREAM on itch.io
RETREAM on Twitter
RETREAM on Patreon


The comments are owned by the author. We aren't responsible for their content.
Author
Thread
328gts

Published: 2019/11/12 14:59 Updated: 2019/11/12 14:59

Home away from home

!

BRAVO Simone! A new game for us amigans to play in 2019 is just awesome and knowing all the time and care you took to make this game a reality for FREE is mind blowing! I'm proud to support you on your Patreon page and I urge all Amiga users/fans to donate to Retream (Simone) if you enjoy Blastaway and to encourage our developers to continue making new games for our favourite OS!

Mikey_C

Published: 2019/11/14 18:51 Updated: 2019/11/14 18:51

Amigans Defender

From:

Cambridgeshire, UK.

It's Brilliant.

It looks Brilliant - This game is going to make my Christmas! - If my humble MicroA1 will run it of course! Thank you!!!

saimo

Published: 2019/11/21 11:21 Updated: 2019/11/21 11:21

Quite a regular

:)

Thanks, guys! Have fun!