Publications : Amiga Future issue 165 released
Posted by AndreasM

on 2023/11/2 16:42:28

(

313 reads

)
The English and German issue 165 (November/December 2023) of our print magazine Amiga Future has been distributed today, and can also be ordered directly from our editorial office at Amiga Future, and from other Amiga dealers that stock it.
Read more... | 2194 bytes more | Comments?
Hardware News : Sam460LE special price
Posted by m3x

on 2023/10/13 9:47:12

(

342 reads

)
Dear valued customers,

We have returned from the amazing Amiga38 exhibition, where we had the pleasure of meeting many fellow Amiga enthusiasts. We sincerely appreciate your support and the enjoyable moments we shared, all centered around our shared passion.

During the exhibition, we presented our Sam460LE board at a discounted price. We are excited to announce that we have decided to extend this special offer to coincide with the upcoming Amiwest event! Although we will not be physically present at the event, you can still take advantage of purchasing the Sam460LE from our store at the exclusive price of 729 Euros (excluding VAT) or 890 Euros (including VAT).

Thank you for your continuous support, and we look forward to serving you!

ACube Systems
Read more... | 1 comment
Hardware News : News from Alinea Computer: Wodem, KickRom-Flash and KickRom-Progger
Posted by AmigaPapst

on 2023/10/13 9:47:04

(

295 reads

)
Alinea Computer presents three new products, which were presented to the public for the first time at Amiga 38.

Wodem
The Wodem makes it possible to integrate any Amiga into a WLAN via the serial interface and to access the Internet via a TCP/IP stack. With the appropriate turbo card or interface card, speeds of up to 115,200 bps are possible. The configuration with Genesis or Telnet is described in detail in the manual supplied.
The Wodem can be purchased without accessories for 29.95 euros.
https://www.amiga-shop.net/en/Amiga-Ha ... or-every-Amiga::1304.html


KickRom Flash
The KickRom-Flash Adapter (version 1.4) is a programmable Flash-Rom replacement for EPROM devices (e.g. 27c400) or Kickstart-Roms in the Amiga computer. Up to 4 Kickstarts (512 kb each) can be loaded onto a component and switched via jumpers or a switch. The switch with the name KickRom-Switch is unfortunately not yet available, but will be released in a few weeks.
In addition to the standard version of the Flash-Rom module, there is currently a special version for the Amiga 600, as mechanical problems can occur there with the standard modules. The programming and deletion of the components is done with the programming device KickRom-Progger.
A KickRom flash can be purchased for 29.95 euros. In addition, a programming service is available for customers without a programming device.
lhttps://www.amiga-shop.net/en/Amiga-Ha ... 7C400-emulator::1305.html



KickRom Progger
With the KickRom Progger, Flash-Rom (27C400 emulators) devices up to version 1.4 from Alinea Computer can be programmed and read. In addition, 27C400 devices can also be read out. The programmer can be operated directly on your Amiga via the serial interface. In addition to the serial interface, the programmer can also be controlled via USB on any computer. The programmer is operated via its own firmware, which is controlled from the computer via a terminal programme and can therefore run on almost any platform.
The KickRom Progger is the world's first programmer that can program its own Kickstart roms directly on the Amiga.
The KickRom Progger can be purchased without accessories for 44.95 euros. Options include a zero-force socket and a serial cable for BigBox Amigas.
https://www.amiga-shop.net/en/Amiga-Ha ... gramming-device::1306.htm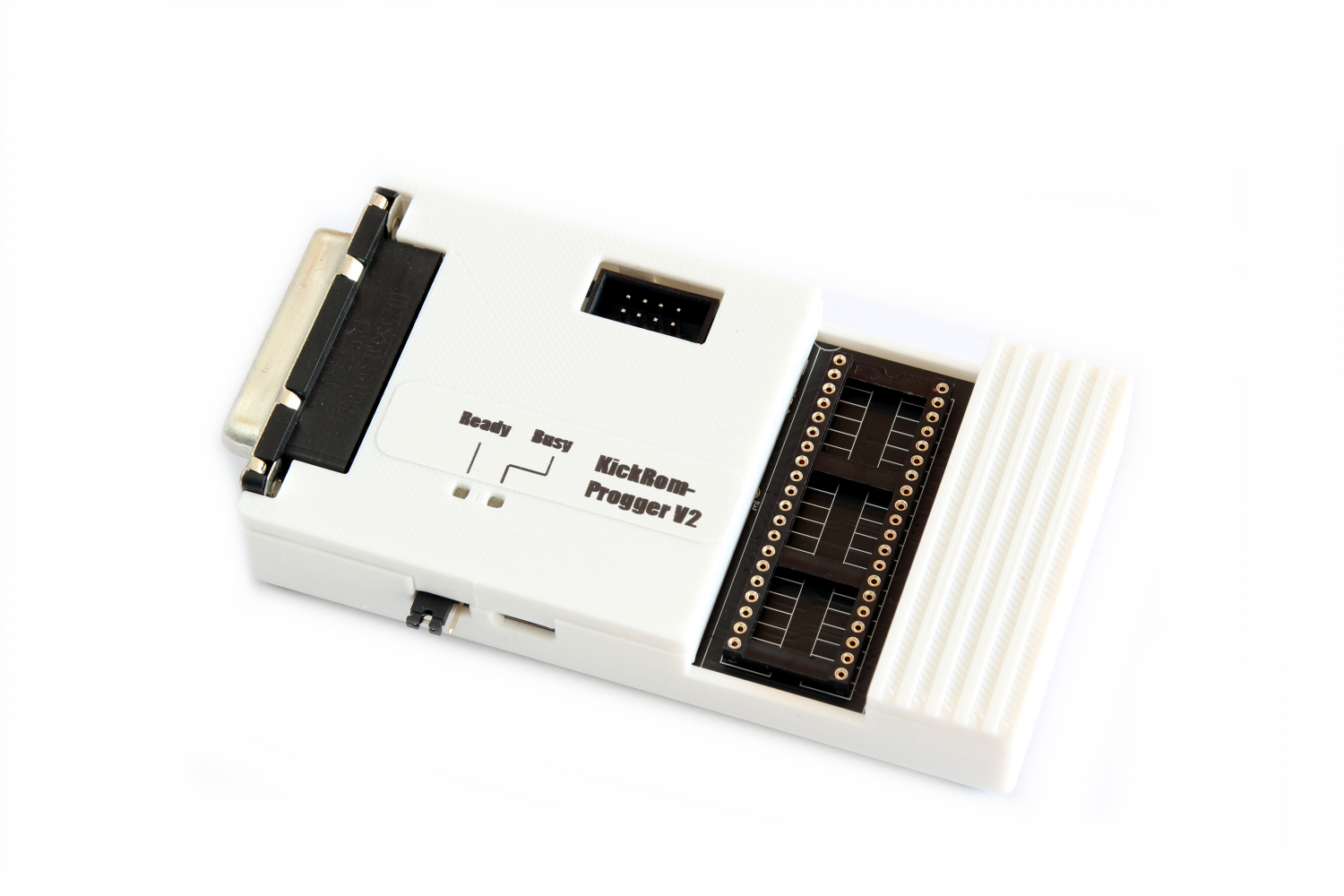 Comments?