Software News :

RNOXfer 1.0 released
Posted by jPV

on 2020/4/4 12:10:09

(

672 reads

) News by the same author
RNOXfer is a graphical FTP client with support for SSL/TLS protocols.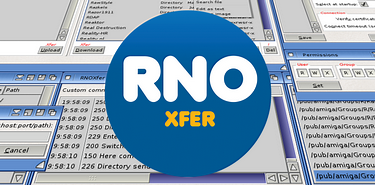 - Supports both explicit and implicit FTPS connections
- Recursive file transfers
- Resume support
- Online editing of files (automatic uploading)
- Create new files using the specific editor setup in Settings
- Open double-clicked files using the program defined in Settings
- Edit filenames and permissions
- File search functionality
- Calculate directory sizes
- Import addresses in URL format
- Configurable IP address and port range for the active mode
- Ability to send custom FTP commands to servers

The program is available for OS3, OS4, and MorphOS from Aminet.


The comments are owned by the author. We aren't responsible for their content.
Author
Thread
K-L

Published: 2020/4/4 14:52 Updated: 2020/4/4 14:52

Just can't stay away

2GB files?

Thanks ! But it doesn't support file bigger than 2GB?

jPV

Published: 2020/4/4 17:17 Updated: 2020/4/4 17:17

Just popping in

2 GB files

Not yet, but hopefully with the next update(s).

khayoz

Published: 2020/4/4 22:13 Updated: 2020/4/4 22:13

Just popping in

Re: 2 GB files

@jPV

Thank you for your work!

nbache

Published: 2020/4/4 23:26 Updated: 2020/4/4 23:26

Just can't stay away

From:

Copenhagen, Denmark

Re: RNOXfer 1.0 released

Thanks - looks very nice indeed. And with dual listers, like I prefer it.

Looking forward to trying it.

Best regards,

Niels

Hans

Published: 2020/4/5 6:53 Updated: 2020/4/5 6:53

Home away from home

Re: RNOXfer 1.0 released

Nice! Finally an FTP client for AmigaOS with SSL/TLS support.

Will have to try this out...

Hans

Hans

Published: 2020/4/6 8:52 Updated: 2020/4/6 8:52

Home away from home

Re: RNOXfer 1.0 released

jPV

Published: 2020/4/6 17:59 Updated: 2020/4/6 17:59

Just popping in

Re: RNOXfer 1.0 released

Glad you like it :) And thank you for the nice campaign!

spotUP

Published: 2020/4/6 20:09 Updated: 2020/4/6 20:09

Just can't stay away

why do comments need a damn title?

I tried it on my 68k setup, it's the first hollywood app i try, and i was very positively surprised! Worked perfectly, a bit slow to start up but when it's running it's a breeze to use. Good work!

328gts

Published: 2020/4/9 3:35 Updated: 2020/4/9 3:35

Home away from home

RNOXfer 1.0 released

@ jPV great news thanks !

SinanSam460

Published: 2020/4/9 22:10 Updated: 2020/4/9 22:10

Just popping in

Re: RNOXfer 1.0 released

Is it possible to support SFTP ? (SSH File Transfer Protocol)

jPV

Published: 2020/4/10 9:53 Updated: 2020/4/10 9:53

Just popping in

Re: RNOXfer 1.0 released

SFTP is planned for future versions, but not just yet.

Joeled

Published: 2020/4/10 16:00 Updated: 2020/4/10 16:00

Quite a regular

Re: RNOXfer 1.0 released

@jPV
Working really good. Thanks...

emeck

Published: 2020/4/11 12:36 Updated: 2020/4/11 12:36

Just popping in

Re: RNOXfer 1.0 released

@jPV

Quote:

Great! SFTP and FTPS with the same program. Thank you!

Hans

Published: 2020/4/13 10:08 Updated: 2020/4/13 10:08

Home away from home

Re: RNOXfer 1.0 released

Hans

Published: 2020/4/16 2:34 Updated: 2020/4/16 2:34

Home away from home

Re: RNOXfer 1.0 released

I sent jPV the donations from sales of ZitaFTP Server late last night, plus a little extra from me. Thanks to those who bought over the last week and supported this.

Hans