Software News :

AMIStore: new CANDI Update and Dandelion Theme
Posted by amigakit

on 2017/5/25 8:27:02

(

489 reads

) News by the same author
Updated Workbench CANDI with Dandelion Theme added

A-EON Technology Ltd is pleased to announce an update to Workbench CANDI, with bug fixes and a few minor changes ready for the next Enhancer Software release. A new Dandelion theme has been added featuring seeds gently blowing in the wind.





Candi Update with Dandelion Theme is FREE to customers who have previously purchased the full retail version of CANDI from AMIStore or Updater utility.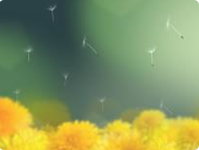 Workbench CANDI introduced the world of composite desktop animation to the AmigaOS. Utilising the power of the hardware compositing engine built into the RadeonHD drivers, CANDI totally integrates with the Workbench and uses the graphics card's GPU to deliver smooth Workbench animations without compromising hardware performance.


Whether it's wispy clouds with a rotating Boing Ball or shimmering, silvery bubbles gently floating upwards and over a retro Amiga Copper background, the CANDI animation effects are simultaneously calming and impressive.

CANDI is fully compatible with the AmigaOS screen dragging feature and more importantly works seamlessly with hardware accelerated compositing video playback introduced with the RadeonHD v2.4 drivers.

The new CANDI Prefs utility enables full control of the dynamic CANDI powered Workbench and incorporate the following key features:-

* Workbench CANDI can be started from WBStartup prefs or manually from the CANDI Prefs icon.

* Ability to choose single or multiple CANDI backdrops and automatically cycle between them.
* A new custom static backdrops option.
* Choose between dynamic and static CANDI backdrops and automatically cycle between them.
* Mix dynamic CANDI animations with custom static backdrops.
* Change the cycle/rotation time for both dynamic and static backdrops.
* A LowCPU option for machines with less powerful CPUs.
* Enable or disable Ringhio notifications while starting and changing an animated background.
* Turn CANDI backdrops ON/OFF or Stop animation from the Prefs application.

Recommended System requirements :
AmigaOS4.1 - Final Edition, RadeonHD v2.10 drivers, a higher specification RadeonHD gfx card

Credits:
Developers: EntwickerX (Frank Menzel & Thomas Claus)
Artwork/Graphics: EntwicklerX/Kevin Saunders

get your Workbench CANDI Treats






The comments are owned by the author. We aren't responsible for their content.