Software News :

RNOTunes released
Posted by jPV

on 2022/11/22 11:59:25

(

504 reads

) News by the same author
RNOTunes is a GUI based audio player application with support for many different audio formats, embedded cover images, and Last.fm scrobbling. A video demonstration of the program is available on YouTube.

The program is available for AROS (i386), AmigaOS 3 (68k and WarpOS), AmigaOS 4, and MorphOS. Please visit its homepage for more information, screenshots, and download links.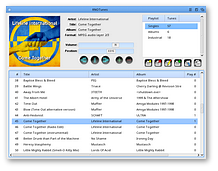 Features:
- Supports MP3, FLAC, Ogg Vorbis, AAC, AIFF, WAV, Protracker, DigiBooster, SID, AHX, FastTracker II, ScreamTracker, OctaMED, The Player, NoisePacker, ProRunner, Oktalyzer, Impulse Tracker, Ultra Tracker, Ice Tracker, Liquid Tracker, Quadra Composer, and many other formats
- Configurable GUI with a cover image display
- Loads embedded cover images and other metadata from MP3, FLAC, and Ogg Vorbis files
- Built-in Last.fm scrobbler
- Lyrics display
- Tune properties editor which saves changes to a local database
- Internal playlists
- Import and export playlists from Jukebox, AMPlifier, etc
- Automatic/manual saving of the last session
- All time playcount saving
- Tune rating option
- Extensive file selection functionality
- File delete option
- ARexx, command line, and tooltypes support

RNOInfoScreen has also been updated to support RNOTunes and a new version of it has been released now.


The comments are owned by the author. We aren't responsible for their content.
Author
Thread
ktadd

Published: 2022/11/22 21:00 Updated: 2022/11/22 21:00

Quite a regular

From:

California, Unitied States

Thumbs up to RNO Software

Thank for all the nice RNO software. I like what you are doing with RNOTunes! Donation sent!

samo79

Published: 2022/11/25 2:38 Updated: 2022/11/25 2:38

Home away from home

Thread

@jPV Sent you a PM :)

smf

Published: 2022/11/25 7:36 Updated: 2022/11/25 7:36

Just popping in

Re: RNOTunes released

I have been waiting for a player with Last.fm scrobbling for years!
The gui also looks pretty good in my eyes compared to the alternatives.
Sadly i have moved on to spotify nowdays and does not even have my nas with my mp3 collection connected anymore but if i play mp3's on my amiga in the future the chance is big that it will be from rnotunes.

jPV

Published: 2022/11/26 15:45 Updated: 2022/11/26 15:45

Just popping in

Re: RNOTunes released

Quote:

I have been waiting for a player with Last.fm scrobbling for years!

BTW. I also added the same scrobbling code into the

RNOInfoScreen

, so you can now scrobble to Last.fm with TuneNet, AmigaAMP, DAPlayer, etc if you just have RNOInfoScreen running while playing with other players, it's a generic solution :)