Re: MediaVault releases

Subject: Re: MediaVault releases
by walkero on 2021/10/5 20:03:57

I just released MediaVault v1.4.0.

This version brings the following:
* You can now search for podcasts based on their title, see info and their
avatar and a list of the latest 100 episodes
* By selecting an episode and clicking the play button the audio is loaded to
the player and starts playing
* Changed the way the avatar images are downloaded, which is now faster and
solves a lot of errors with network access, which resulted connection error
messages to appear.

Find more info at https://ko-fi.com/post/MediaVault-1-4-0-released-F1F76GYRS

I would like to thank my supporters at https://ko-fi.com/walkero, who help me a lot on the further MediaVault development.

Of' course, the development does not stop here. I am already working for the next release, which I plan to be a smaller one, with some fixes and changes here and there, and maybe add more filter selections on podcasts section.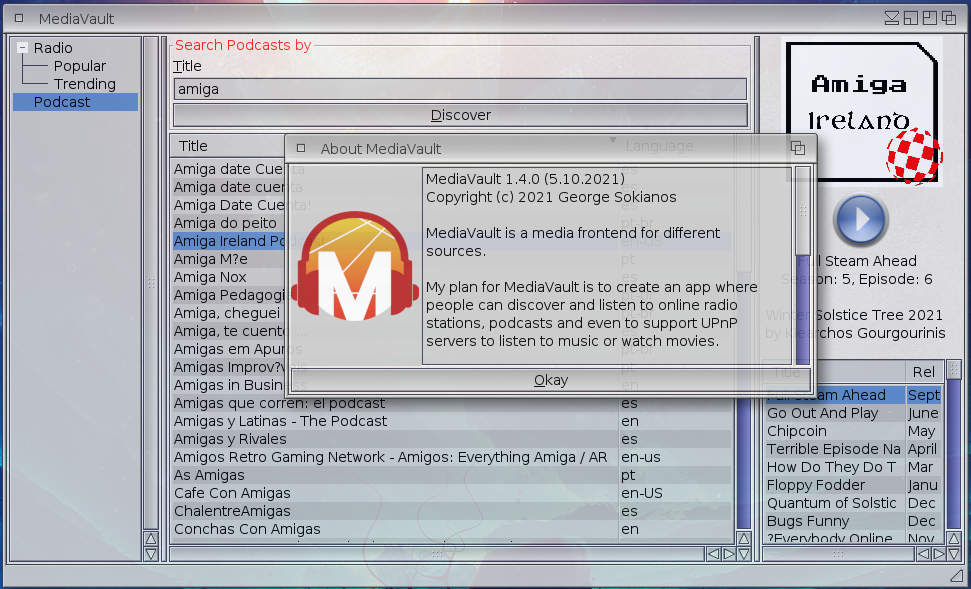 You can download it at OS4Depot and from my Github at
https://github.com/walkero-gr/mediavault/releases/tag/v1.4.0

The project is open source and you can find the code at:
https://github.com/walkero-gr/mediavault

If you have any requests or you would like to report any problems you found, you can do it at:
https://github.com/walkero-gr/mediavault/issues

Hope you will enjoy this new release.