A new, quality, physic-engine based game "GISH" for AOS4 !
Date 2010/6/3 20:14:30 | Topic: Software News


For now, one of the very popular games is also available for AmigaOS4 and its called : GISH (original site).

Gish is a 2D platform game developed by Alex Austin, Edmund McMillen and Josiah Pisciotta and distributed by Chronic Logic, Stardock and other distributors. The game was featured in The Humble Indie Bundle. Following the success of the promotion, Cryptic Sea pledged to go open source with the game which eventually happened on May 29, 2010.

You can download it from os4depot (and also check screenshots). But screenshots will tell you almost nothing, because the best side of it its game play and physic. For example you can check that video, for making right opinion about.

Remember, you need download somethere or buy full game, for get huge data files from (60mb packet / 200 unpacked). But the game worth of it !

Game itself uses OpenGL for rendering and SDL for others, so, 1ghz of cpu are pretty preferable for smooth and fast plaing.

Enjoy !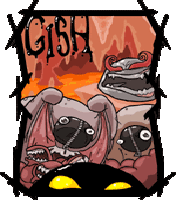 This article comes from The Amigans website
https://www.amigans.net

The URL for this story is:
https://www.amigans.net/modules/news/article.php?storyid=1139